Everything will go just swimmingly with these creative ideas!
By: Shannon Feulner
Related To:
SummerBarbecue RestaurantsBurgerRecipes for Parties
Summertime pool parties are a great way to beat the heat, but hosting one can present plenty of challenges. From warding off bugs to keeping everything chilled and free of pool water (nobody likes soggy potato chips) throwing a backyard bash requires some planning ahead.
Don't worry, though. It is possible to create a menu that meets the needs of those swimming in the kiddie pool or diving into the deep end. Here are some foolproof ideas for throwing the best pool party of the summer. Let's dive in!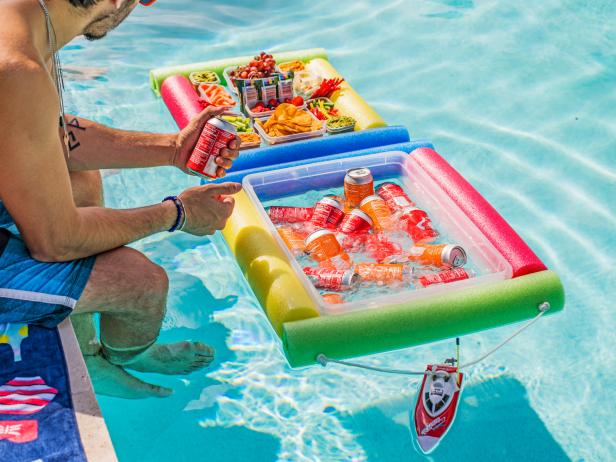 Jason Lee
On a hot summer day, the last thing you want to do is get out of your unicorn pool float to get a snack. That's where this floating cooler and snack bar comes in! If you want the noshes to come to you, attach a remote-control boat to move your snack bar. Just make sure everyone gets a turn with the remote.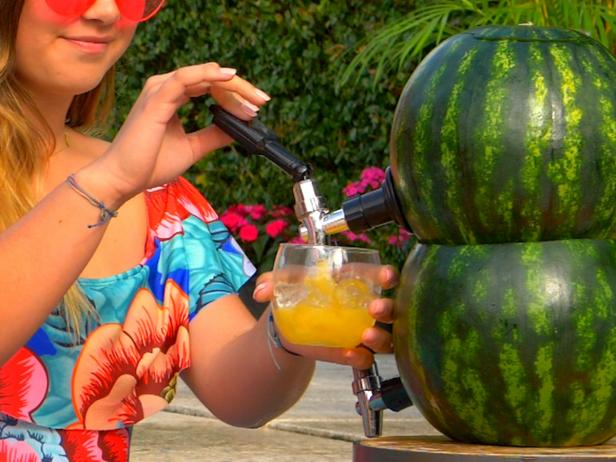 Keep everyone cool with a refreshing twist on a Tequila Sunrise. Hollow out watermelons to make kegs and use the juice to create an ombre cocktail. Your guests will love pouring themselves a drink from this creative keg as much as they will enjoy this fruity mixture.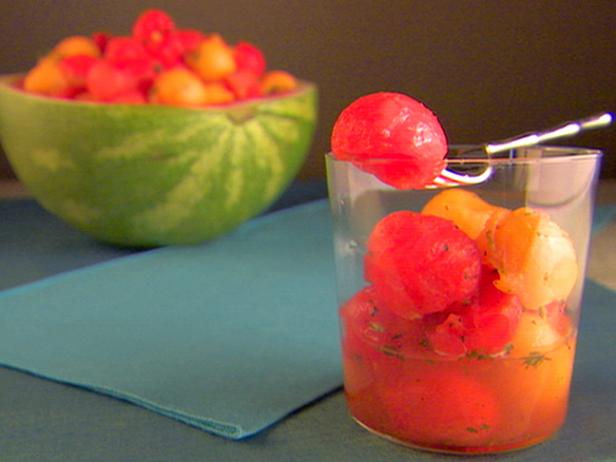 Watermelon and Cantaloupe Salad with Mint Vinaigrette
After a full day in the sun, there's nothing more satisfying than biting into a refreshing piece of watermelon to help you cool off. Giada De Laurentiis makes this adult fruit salad using fresh mint, lemon juice and amaretto. This light vinaigrette is then used to coat beautifully scooped watermelon and cantaloupe balls. If you want to keep this fork free, try skewering the melon balls to make fruit kebobs.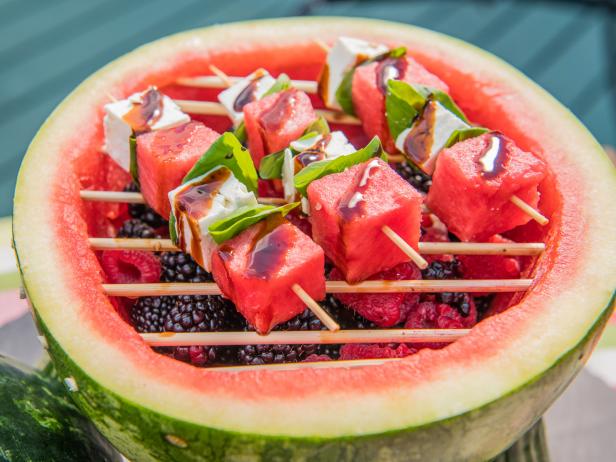 Make Your Own Watermelon Grill
Feeling a bit crafty? Take fruit salad to the next level by transforming it into a watermelon grill! Fill it up with blackberries and raspberries to represent the coals , then cook up some watermelon and feta skewers on your newly carved grill for a fun twist on a summer favorite.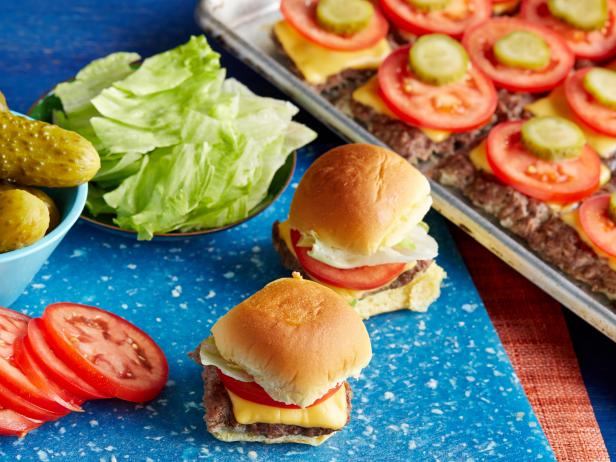 Alice Gao, 2014, Television Food Network, G.P. All Rights Reserved
Need to feed a crowd that has worked up an appetite swimming laps in the pool? This press-in-a-pan slider recipe will help you feed the masses without standing in front of a grill for hours. Prepare the meat mixture and press it onto a cookie sheet a few hours before your party, refrigerate and cook just before the crowds show up! To serve, wrap one end of the burger in a piece of wax paper to keep your burger buns from getting soggy from pool hands!
Ina Garten's fresh corn salad requires seven ingredients and hardly any prep time. Blanch the corn in ice water to stop the cooking process and to keep your corn a beautiful sunny yellow color. Serve this dish chilled or at room temperature; either way your guest are sure to enjoy it.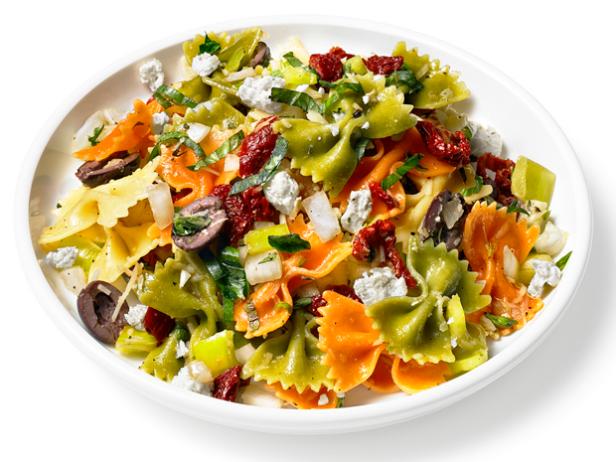 This pasta salad will add a pop of color to your pool party spread. Filled with olives, sun-dried tomatoes and romano cheese your guests are sure to be impressed. If you need a modified version for picky eaters, boil some extra tricolor bow tie pasta and toss with some butter and romano cheese for a more kid-friendly pasta side.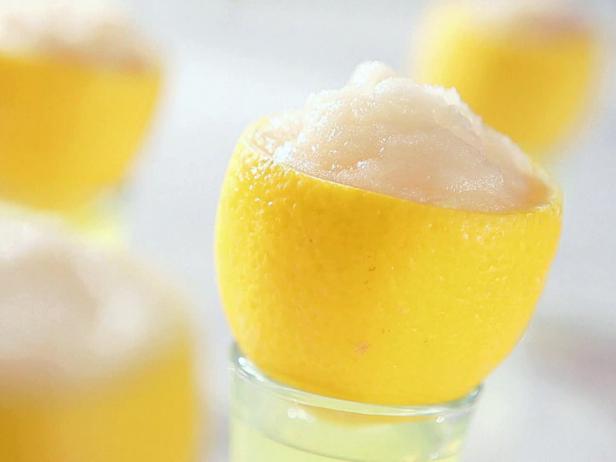 A pool party is not complete without some type of frozen treat. Sandra Lee serves this limoncello frozen cocktail inside of a lemon for a fun and refreshing party drink. Use a spoon to scoop out the inside of the lemon to create the cup. Make sure to freeze the lemon for at least 1 hour before filling them with your sorbet, limoncello and vodka slushy.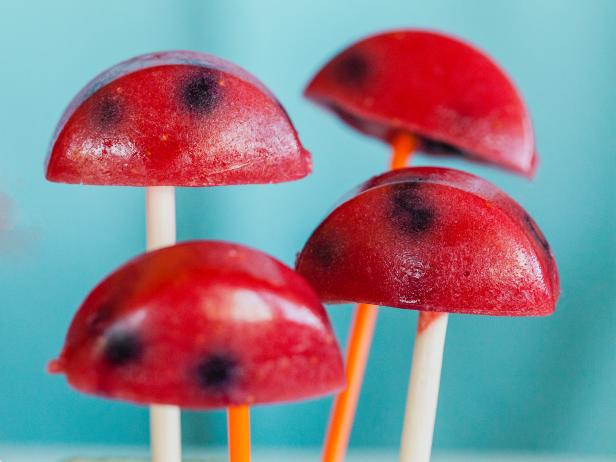 Jackie Alpers, 2014 Television Food Netword All rights reserved
These lady bug pops are oh, so adorable. Giada purees strawberries, orange juice, lemon juice and honey together to create the bright red pops, then pours the mixture into an ice cube tray and places a few blueberries in each to create the lady bug spots! Giada recommends freezing for 1 hour and then inserting the lollipop sticks into each cup before freezing once again.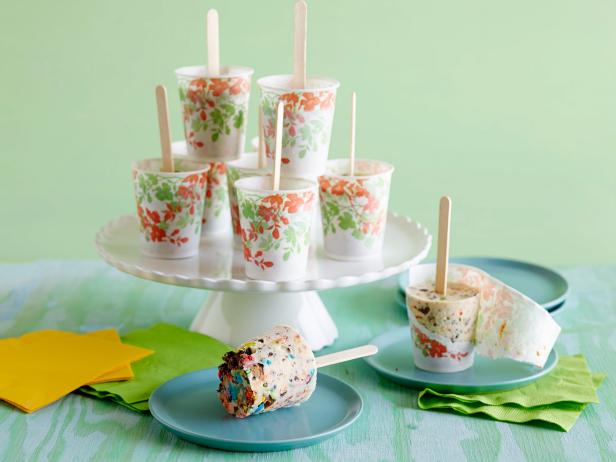 Matt Armendariz, 2014, Television Food Network, G.P. All Rights Reserved
If anyone knows how to please kids and adults alike, it would have to be Ree Drummond. These ice cream freezer pops made using vanilla ice cream are filled with crushed sandwich cookies, peanut butter cups and candy-coated chocolate pieces. These can be made using any of your favorite ice cream flavors and add-ins, so don't get brain freeze… be creative!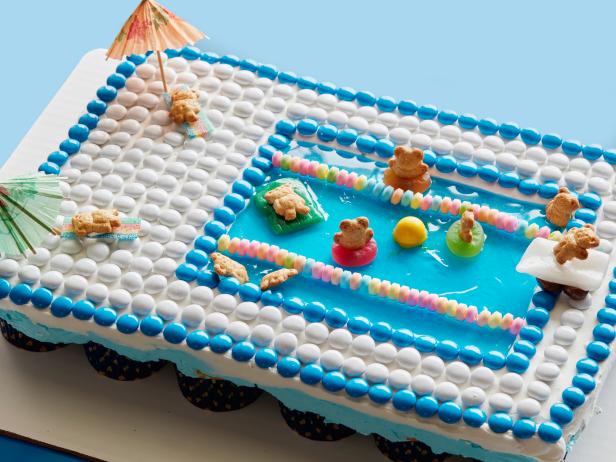 Matt Armendariz
This "pool-apart" cupcake cake is something that everyone is sure to enjoy. All you need is boxed vanilla cake mix, store bought vanilla frosting and some colorful candies. When assembling, make sure to anchor the cupcakes to the board or tray by spreading some frosting on the bottom of the cupcake liners. Everyone will dive right in when this candy-covered dessert is revealed!
source: https://www.foodnetwork.com/fn-dish/recipes/2018/7/pool-party-recipes-