The evolution of the swimming pool has changed drastically over the years. At one time they were considered a luxury of only the rich and famous and now have evolved to homeowners, maybe your neighbor, who desire a resort style feel to their space. A place where they can relax, entertain and call the crown jewel of their home. There are three elements to pool design you'll need to consider. Pool automation and controls, fire & water combinations and lounging ledges inside pools. So what's all the buzz about? Here is some information to get you started.
TIP 1: FIRE AND WATER COMBINATIONS: Designers and pool owners alike recognize the dramatic effect of combining these two features. These combinations offer the pool owner flexibility to run the two features simultaneously or independently. Fireplaces, fire bowls and fire pits all continue to play an important role in today's modern poolscapes. A monument to multitasking, fire features offer ambiance and warmth allowing pool owners to enjoy spending their time poolside.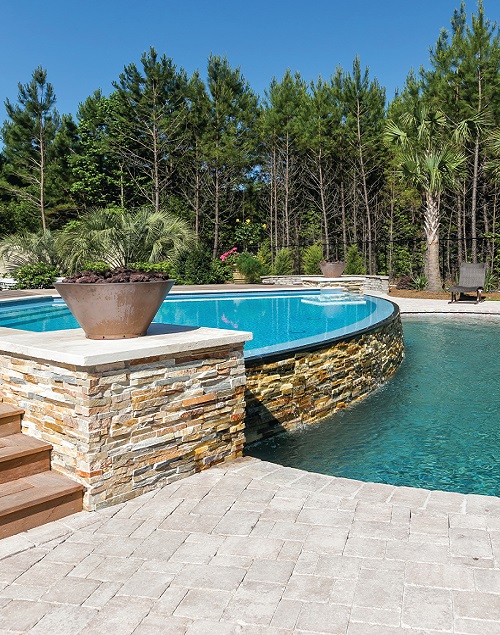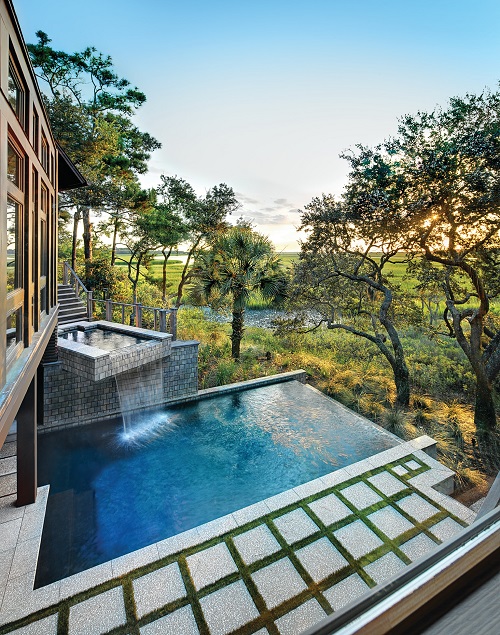 TIP 2: LOUNGING LEDGE: Lounging areas in pools have expanded in size and in popularity. They have become so popular that they now have their own list of options like the addition of bubbler fountains with colored lights, umbrella sleeves and sleek, modern lounging chairs specifically designed for use in the water.
TIP 3:  POOL SYSTEM AUTOMATION:  First, imagine having the George Jetson of swimming pools. Turning on (or off) all of your pool's features from the airport, office, or the beach. You can do this with your smart device wherever you are in the world as long as you're connected to wifi. Now imagine being in your house and telling your in-home personal assistant, "Alexa, turn on the spa jets and dim the patio lights." Impressive? Consult with a pool designer for an automation plan that's realistic for your budget, home and technology requirements.
source: https://www.lowcountryhome.com/three-trends-pool-design/