Create a staycation landscape in your own backyard—complete with the perfect pool.
If ever there were a time for a staycation, this is it. Your outdoor space is your private oasis, and however you want to revel in it, there are landscape designers, aquatic experts, and pool builders offering Zen-style serenity to ultra-exciting features.
In the hands of Benjamin Lasseter and Scott Cummings of Design Ecology/Design Aquatics in Austin, outdoor home properties become a work of art. While their work is international, Central Texas—with its wide-open spaces and hot weather—represents their biggest market.
One project in Austin started as a simple remodel and cabana near the house. It quickly evolved into completely replacing the existing pool, pool decking, pool house addition to the main home, and pavilion area. Pathways of light pink decomposed granite, defined with limestone boulders, lead to a formal bistro setting and pizza oven. Farther down the paths are unexpected treats for the senses: a vegetable garden, greenhouse, and orchard. The homeowners, who have visiting children and grandchildren, love tending to the vegetables and the orchard, where they grow peaches and pears, along with other fruits.
The home's existing pool was beginning to show its age and was in poor condition, says Cummings, the firm's principal landscape architect and the project lead: "Our goal was to replace the outdated outdoor living space with an enduring modern design that is in keeping with the style and quality of the home."
All the spaces are strongly linked to the pool house addition, which architect Janet L. Hobbs of Hobbs' INK Custom Home Design beautifully integrated with the house.
The jewel of the project is the 26-foot by 50-foot pool, truly "a unique and special pool," as Lasseter says. The all-glass tile, perimeter-overflow swimming pool features a Lautner knife edge on the house side that seamlessly transitions into a more traditional vanishing edge.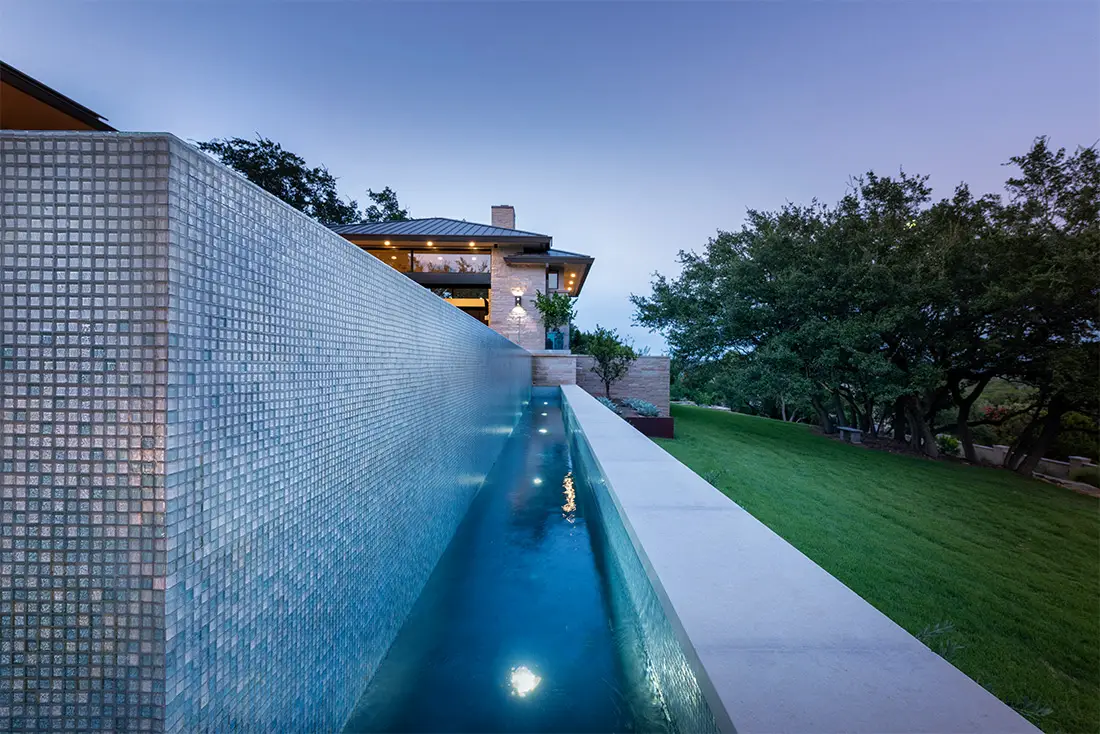 The Design Ecology team worked closely with Oceanside Glass & Tile, to plan a custom-blended nine-color tile gradient, transitioning from clear white to royal blue. A climate-controlled tent was employed to ensure that proper temperature and humidity was maintained for the installation of tile within the all-tile interior of the pool. "The design and construction of this project took nearly four years to complete," Lasseter says. "It's an incredible work of art."
Water quality was a high priority for the homeowners, so Lasseter and Cummings stepped up the technology for sanitation and installed a high-tech hyperoxygenation system, Aqua Fuzion by Exceptional Water Systems. Additionally, a high-output ozone system by Clearwater tech, and a commercial UV system by Pentair were introduced. Jandy variable speed pumps, heater & heat pump keep the pool circulating at an optimum temperature year-round for the owners' enjoyment. Interest in alternatives to traditional chlorine systems are at an all-time high, the partners say.
Another project, for a young family, is more child-centric (without slides or other play equipment that in a few years will be obsolete). It features a similar method for sanitizing pool water: hyperoxygenation and ozone. We try to get at least one gram / HR of ozone per 1,000 gallons of water. "It allows us to go comfortably chlorine-free except for a bit used occasionally to combat algae after a storm," Lasseter says.
When an active family with teenagers approached Ryan Hughes, the owner of Ryan Hughes Design/Build in Tampa, Florida, he knew this would be a special project. The couple had purchased property on the Gulf of Mexico, where they hoped to kayak, fish, and launch a surf kite. "It takes a beach to do that," Hughes says, so he formed one. Mangrove trees provide a beautiful screen between a grand pool and the gulf beyond.
"Our goal was to design a beautiful space and make it easy to get the toys back and forth from the water," Hughes says. An outdoor kitchen, spa, and firepit located on the fourth floor—the icing on the cake—makes the house a perfect party venue and a true Nirvana, the home's nickname. "You would see a lot of these features, like lounge areas and shade structures, at a resort."
"Engineering was a challenge," Hughes says, leading him to build the project on 57 Helical piles. "Any time we're building on the water in the velocity zone, it's a challenge," he adds. "Everything is twice as hard as a regular property. But you can't let that stop you."
For their 5,300-square-foot landscape in Tampa, another couple asked Hughes to create a sleek resort-like atmosphere with a variety of features—all protected by a screened enclosure. "Our goal was to create the illusion of the outdoor spaces reaching beyond and not constrained solely by the parameters of the enclosure," Hughes says. The property has bountiful enticing spaces: an intimate grotto, water feature walls, a vanishing edge spa, fire pit, and a glass-tile sun shelf that seems to disappear into the landscape.
Innovation was key. The pool's knife edge is engineered to allow mere inches into which the water spills into a trough, while the artificial turf acts as the coping to the pool. The mood continues into the spa, where reflective glass tile melds with the adjacent linear fire feature and water-feature wall. Nearby, a daybed sways over a koi pond while water features provide a touch of serenity. As Hughes says, "It's a true backyard oasis."
As the principal of J. Brownlee Design, Jason Brownlee, SWD Registered, Society of Watershape Designers, is seeing an uptick in clients requesting a resort experience at home. "People are sitting at home and saying, 'Let's make our home the resort we would go to.' We can create it," says Brownlee. "It actually turns into, 'I don't want to leave.' It happens."
One family in Nashville showed Brownlee their home, which was lovely but lacked character. Before last spring, the family, with two teenagers, had booked an around-the-world cruise. When traveling wasn't on their radar, they asked Brownlee to design a private resort experience on their 2.5-acre property. The result was a complete transformation: a water-feature-centric design with a spa, fountains, and a pool built by Chad Christenson of Watermark Pool & Outdoor Living.
Brownlee and Christenson, both based in Tennessee, frequently team up on projects. "I'm an independent designer; I get the best with great contractors. That way we play to our strengths," Brownlee says.
Christenson also appreciates working with landscape architects and watershape designers like Brownlee. "Creating a unique space for our homeowners' daily lives, and one that is emotionally positive for them, is the goal for us," Christenson says. "A beautiful outdoor living space is a wonderful getaway from the everyday stresses of life and a place to breathe in peace."
The pool on the Nashville property gets its luxurious, discreet beauty from design features such as planters buffeting the pool's edge and a nearby firepit and patio spaces to tuck into. "I never intend to make the pool the centerpiece," Brownlee says. "My design integrates all the features: hanging beds, outdoor kitchen, outdoor dining. Those spaces become the core of the design, and then the pool connects them."
For the pool itself, Brownlee often visualizes rendering the vibe of a secret space that is constantly rediscovered by the clients. "I love to take that journey, the anticipation of it," he says. "When you can't see the pool all at once, your mind takes you around the corner. If you follow your senses, you have a wonderful mystery."
source: https://luxurypools.com/pools-spas/designing-pools-with-ultra-exciting-features/