With a pool and poolhouse combo, taking a vacation is as simple as stepping outside.
There's no party quite like a poolhouse party. Icy cocktails and chips served on the bar, steaks searing on the grill, a tossed salad in the fridge, and corn steaming away on the kitchenette stove. Kids circle in and out of the pool endlessly with big, purposeful splashes before unwinding in front of the TV. The adults sit back and connect around a dancing fire until the alfresco feast begins.
Spending time outdoors is deeply restorative—the evidence is clear—and a poolhouse is key to luring everyone outside and keeping them there. It's an indoor-outdoor oasis designed to ramp up a home's pool-centered entertaining. But its contribution is more than just party hosting: It alleviates wet traffic in the main house; provides extra storage; and, built to a certain size, can even double as a home gym, work retreat, or guest suite.
Whether your dream is a chic cabana or fully stocked living-dining space, let the following design success stories be your guide. These inspiring examples by leading designers showcase the potential of this outdoor living essential.

RELAXATION FOUND
"A poolhouse is synonymous with fun and relaxation. There's really no other residential space that's about just these two things," says Joseph Colao, partner and designer at Colao & Peter, Luxury Outdoor Living in Virginia. "It's a destination where our clients simply enjoy their family and friends and take a break from their busy daily lives."
The structure's size, shape, and style depend on a lot of factors, Colao explains. "There are so many options for a poolhouse today; homeowners must really consider how they plan on using it. Is it primarily an entertaining and party space, or is it more for family dinners and smaller get togethers? The design must also center on how many months it will be used," he continues. "In colder climates, putting in mechanical systems and folding or pocket doors extends the season."
For a clients' getaway in Woodville, Virginia, Colao and his business partner, J.R. Peter, designed an amenity-rich outdoor living space. "The goal was to maximize the Shenandoah Mountain views," he relates. The multi-grade complex starts with a poolhouse and travertine terrace, then steps down to a lounge area with spa, and culminates in the pool itself. "We oriented the pool, with 70 linear feet of infinity edge and a five-foot overflow, to face the best views and capture the most sun," he says.
Instead of copying their main home exactly, the owners were open to a more fun, modern design for the outbuilding. "We went with a metal roof to get more of a pop; it plays off the black pocket doors," explains Colao. Amenities include a kitchen, covered dining space, and a cozy TV area with stone fireplace. PAL strip lighting installed on the exterior and in the interior ceiling trays creates a party atmosphere at the touch of a phone.
"We encourage our clients to consider a fireplace or fire feature as it allows for continued enjoyment of the space into the evening, when the pool becomes a beautiful backdrop," says Colao. "Using the space for a longer period of time means more return on your investment."

ENTERTAINMENT CENTRAL
"A covered structure like a poolhouse is an outdoor living staple. It's a true outdoor room with indoor comforts, which adds to a property's entertainment factor," says Ryan Hughes, owner of and creative director at Ryan Hughes Design/Build in Tampa, Florida. No stranger to luxury poolscapes, Hughes notes that a successful poolhouse is an integral piece of a comprehensive whole. "It needs to feel like a part of the pool in terms of size, alignment, and sight lines. It should play a role in making the outdoors flow from the indoors," he says.
His favorite project with a poolhouse is called Amarula Sun in Holiday, Florida. "Of the entire pool design, the pavilion is the final destination and main point of entertainment," he explains. Completely autonomous and self-sustaining, the Mediterranean-style structure includes a lounge area with sectional, water and fire features, bar, and kitchen.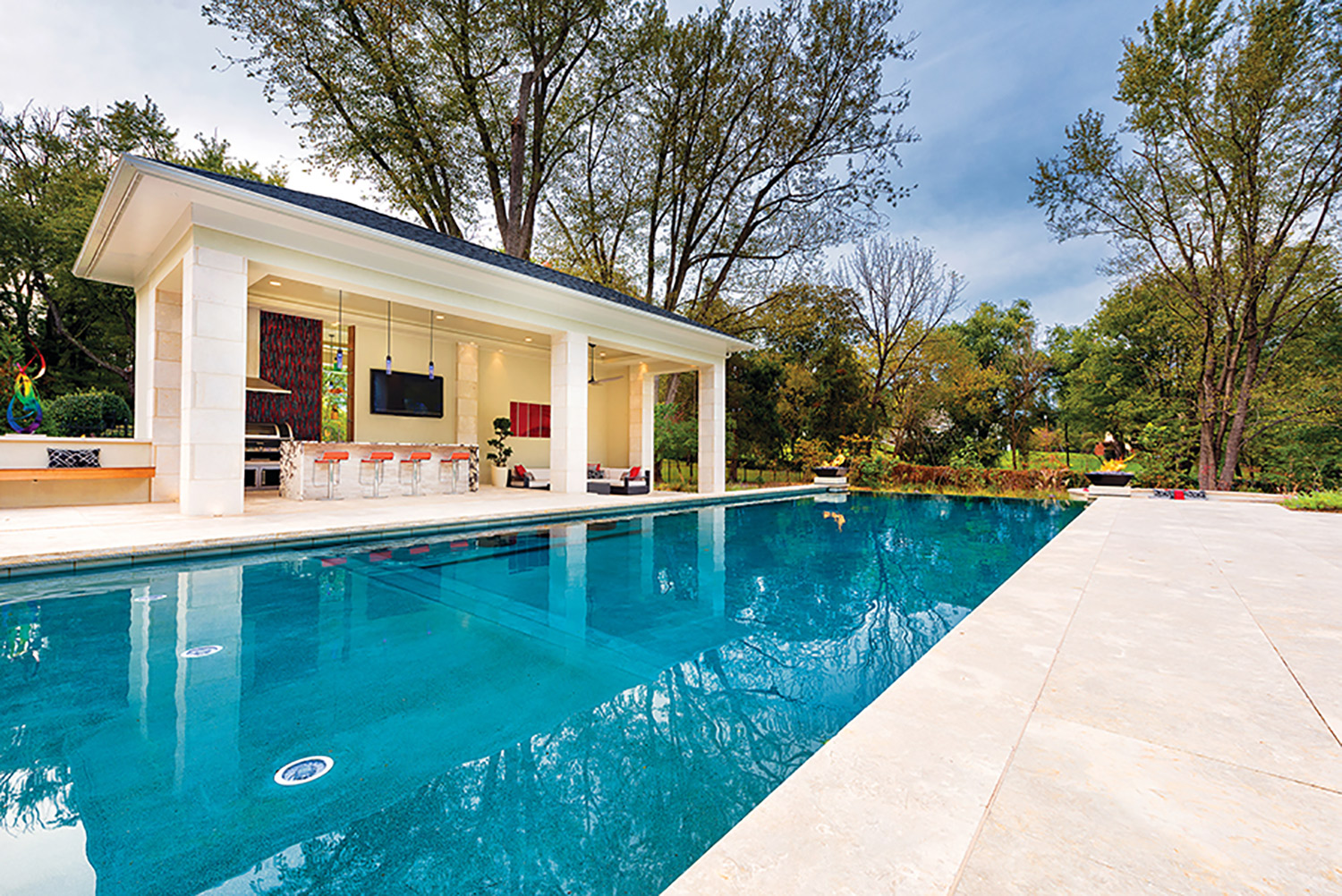 "We positioned it on the center line of the lap pool, which is the culmination of 3,000 square feet of water moving from level to level along the property," says Hughes. "The pavilion connects with the pool and is an integral part of the water journey," he adds.

MODERN TRANQUILITY
Another Ryan Hughes Design/Build project, this one outside Washington, D.C., was inspired by its owners' travels, especially to the Caribbean. Hughes delivered a variety of resort-level amenities, starting with a 41-foot-long vanishing-edge pool with swim-up bar and pebble-finish sun shelf. A raised spa and round fire pit are additional mini-destinations.
Their poolhouse is an open-air pavilion with outdoor kitchen. A testament to modern luxury, it incorporates funky design elements like sculptural artwork and a tray ceiling with inset LED lights. "The kitchen is more detailed than usual for the outdoors," describes Hughes. "It was designed for greater use during the colder months. Even with the pool shut down for the season, the pavilion still offers a great entertaining space."

LINEAR SIMPLICITY
Flavin Architects specializes in natural modernism, a design approach dedicated to blurring the distinction between inside and out. For a new build in the Berkshires of western Massachusetts, principal Colin Flavin also master planned the site, which includes a 40-foot lap pool with incorporated spa, concrete gas fire pit, outdoor grill area, and cabana.
"We try to be responsible for the site planning from the very beginning at a macro level. It's critical because of all the glass we use," he explains. "We sited the pool on the home's more private, sunny side, off the master suite. We slid it away from the principal rooms because, during a long New England winter, pools just aren't that attractive; it's an important consideration for northern climates," notes the architect.
Placed like a bookend in the property's southwest corner, the open-air structure was designed by Flavin and project architect Heather Souza. The building is clad with red cedar and Freedom Grey metal panels. "The same materials are used on the main home, and we incorporated horizontal slats along the ridge for ventilation," says Flavin. Modest in size, with just an open sitting area, bathroom, outdoor shower, and equipment storage, the cabana acts as a dramatic focal point while providing much-needed shade.

COASTAL CUES
When clients approached Flavin Architects to design a poolhouse and guest quarters to partner with their 19th-century Shingle-style main home in Gloucester, Massachusetts, Flavin encouraged them to consider a modern approach. "They are avid sailors, and the nautical world is all about practicality and sleekness and functionality. We went with a yacht concept, keeping the structure highly detailed but streamlined—and focused on the view," explains the architect.
Flavin and co-principal Howard Raley took cues from the lap pool and landscape, designed by landscape architect Peter White of Zen Associates. "We matched the width of the Loewen sliding door system to the width of the pool exactly. The structure and pool are both oriented on axis to capture the best view of the busy harbor beyond," says Flavin.
Within a striking modern envelope, the interior is multifunctional. The kitchenette, living room, and bathroom can easily accommodate guests one night and a holiday dinner or Super Bowl party the next. "It's a poolhouse where you can escape the sun, a workout spot with inspirational views, or an away room for quiet work or study. It's adaptable," summarizes Flavin. "I think of it as a retreat from the seriousness of daily living in the main house, but also as a loosening up of the estate's architectural style."

COMFORTS OF HOME
When clients in New Paltz, New York, decided to renovate, designer Dave Ciotoli of Rainbow Pools & Living Art Design infused the new landscape with entertaining-friendly features. The infinity-edge lap pool, complete with integrated spa and LED lights, partners with an outdoor fireplace, sculpture installations, and lush gardens.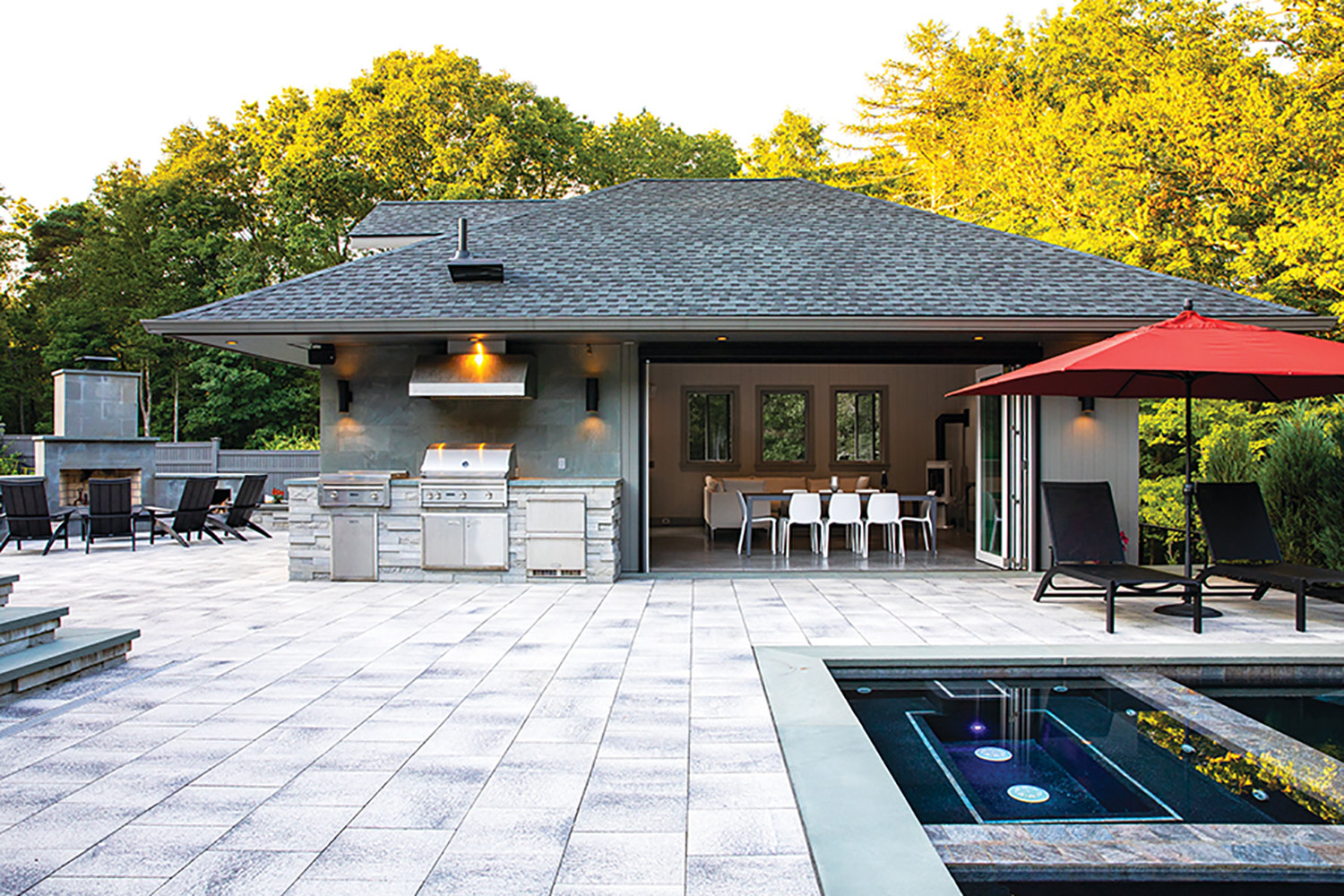 Ciotoli maximized the poolhouse footprint with a kitchen, dining table, seating area with gas fireplace, and loft living space. An automatic screen protects against bugs when the folding door is open. On the other side of the kitchen wall is an outdoor grill station with vent hood, griddle, ice maker, and beverage fridge. "The indoor and outdoor appliances share a common wall and tap into the same fuel system," he explains.
"The trend in recent years has been to bring the creature comforts of interior rooms into the landscape," adds the designer, "and poolhouses are ideal for accomplishing this goal."
source: https://luxurypools.com/featured-content/destination-pool/