Have you ever considered cooking your Thanksgiving turkey on the grill? It is delicious and it frees you up from having to stand in front of a hot oven all day. Your house may be cooler if the oven doesn't have to run all day and turkey on the grill is delicious!
If you're thinking there is no way a turkey can be grilled, we're here to tell you you're quite wrong! And don't let the fact that it's November stop you from grilling it up — many people grill year round. You can toss your chef's hat into the ring and join the legions of people who will be grilling their turkey this year.
There's nothing more delicious than grilled food, don't you agree?
Stick with us when we say you can grill:
The turkey
Sweet and other potatoes
Asparagus (yum!)
Pumpkin pie
Your favorite veggies
Sweet potato casserole with melty marshmallows on the top
Grilling a turkey is a great way to cook it out of doors and doesn't involve deep-frying.
Grill Up A Thanksgiving Turkey
How do you grill a turkey?
You can cook an entire thawed turkey on the grill. Make sure your grill is large enough for the size turkey you will be cooking. Consider cooking two smaller ones — one in the house and one on the grill.
The turkey can be cooked on charcoal, smoked, right on the grill or on a rotisserie.
Don't forget a drip pan to capture the juices to make gravy. Some turkey grillers opt to cook the turkey on foil or in a pan, and that's fine, but you won't get the grill marks!
Here's how to prepare the turkey for the grill.
Remove the turkey giblets from the cavity
Cook giblets separate in a foil pouch on the grill.
Add lemon wedges, onion and fresh herbs to the turkey cavity. Pull the neck skin down and secure with a metal skewer.
If you like stuffing for your turkey, cook it separately. When you put it inside the turkey it may not cook thoroughly — the turkey. Cook the stuffing in a pan on the grill.
Tuck the wing tips under and tie them with kitchen string.
Spread butter on the turkey and sprinkle with salt and pepper.
Insert a meat thermometer into the thickest part of the turkey leg or use a meat thermometer throughout the cooking process.
Place the turkey, breast-side up on your preheated grill.
Plan on cooking the turkey 11-15 minutes per pound. If you're cooking on charcoal, add half a dozen briquets to each side of the fire every hour to keep the coals at medium heat.
Brush the turkey with melted butter throughout the cooking cycle. Grill, covered until the thermometer reaches 185 degrees.
Once the turkey is done, remove from the grill and let sit for up to fifteen minutes before carving.
Don't forget a delicious, seasonal side dish
Grilled sweet potatoes are quick and easy and delicious!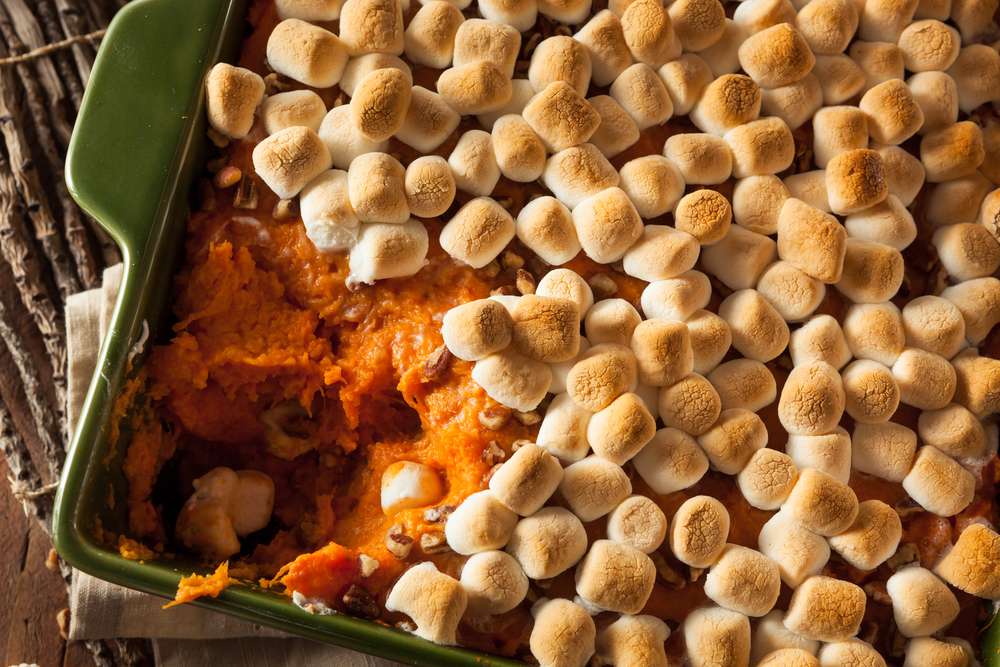 Peel the sweet potatoes
Slice into quarter-inch thick slices.
Brush them with olive oil
Sprinkle on salt before placing on a hot grill
Or brush them with butter and sprinkle cinnamon on them before grilling. At the end, add some sugar or honey and cook until carmelized
Grill fifteen minutes then flip
Cook until they are soft when pricked with a fork.
Sweet potatoes can also be wrapped in tin foil and butter or olive oil. Plan on 30-45 minutes before they're ready to eat. After they've cook, slice them open and put mini marshmallows into the sliced opening. Put the potatoes back on the grill until the marshmallows are melted. Yum!
We are firm believers that there is virtually nothing that cannot be grilled!
source: https://poolsidenews.org/how-to-grill-a-turkey/